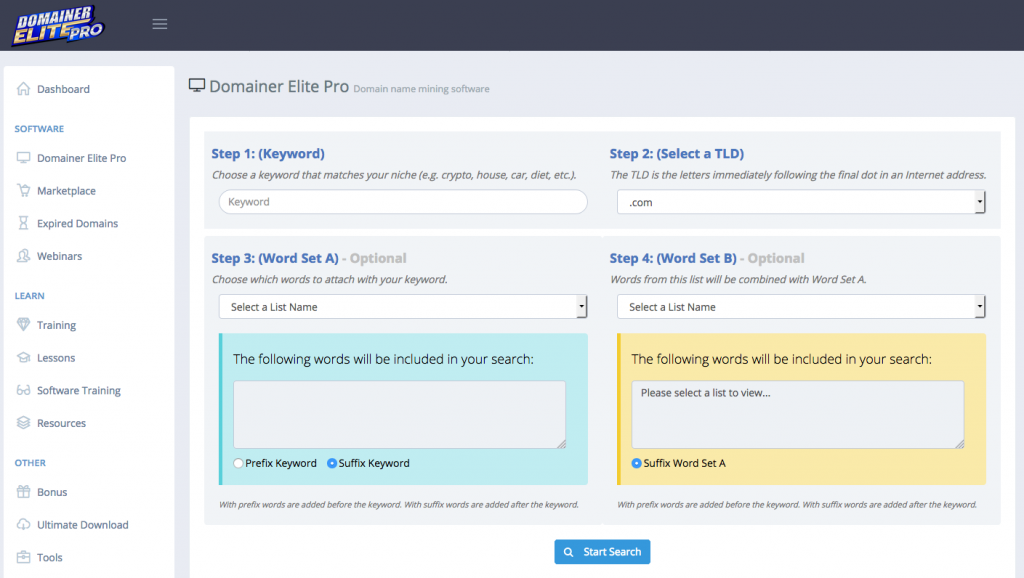 Domainerelite Pro includes the Software, instruction, training and resources to buy and sell them for huge profits. But make no mistake, DomainerElite is much more than a course on "how to sell domain names" as it solves one of the hardest problems, a problem that had previously made domaining undesirable. It actually FINDS good Domains that will SELL. Buying a domain for $9 and selling it for 20 times more than you bought it for at a high frequency again & again is very desirable, and therefore this is why this program was such a big hit.
We have made these very powerful improvements to the software:
Number #1: We have added 3 new criteria to the search capability: Instead of just using keywords, trends, starting and ending words, we have added three new "surprise criteria." Just wait.
Number #2: You can find premium domains, as well as godaddy auctions without having to search individually on godaddy using the search function
Number #3: We have improved overall flexibility when using the software
Number #4: We have introduced a marketplace inside of DomainerElite where you can list your domains for sale and actually sell them, this will be available as an upgrade within the sales funnel for $47 one time fee. This is actually a great deal as you can have them hosted for sale wherever you choose, Godaddy premiums, Flippa, even privately using escrow.